When I was working in corporate, creating a routine that included athletic training was super easy; ride or run to work, go to the pool at lunch, and ride or run back home. I would add and remove as my training required and get the real distance / load I needed in on the weekends. This doesn't mean the training itself was easy, running to work with a 20lb backpack because you need to commute with clothes and your laptop certainly isn't fun, but the multitasking gave me a real sense of accomplishment and made both tasks more enjoyable. I would often listen to books on tape and podcasts while training and feel supper accomplished. 
When I sold my 1/2 million dollar home to become a digital nomad and started traveling the world as a public speaker, my routine went out the window and I found it super challenging to get it back. Between packing, flying, doing appearances, flying, and unpacking you could have several days strung together that didn't have space for fitting in hours of training, not to mention eating well.
In January of 2020 I visited 9 countries and was starting to see real success in my business. I thought, now is the time to address my wellbeing and re-establish a healthy routine. In March of 2020 I had a solid routine and was gearing up for re-entering the world of triathlon competition. In April of 2020 the gyms and pools closed and the Florida heat was starting to roll in.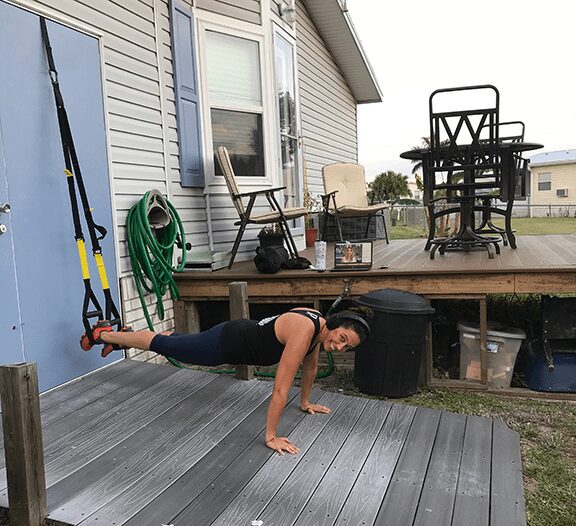 In March of 2021, after suffering some health issues that caused me to gain weight, being on lockdown, and focusing on helping small businesses innovate, and elevate, I found myself at the heaviest I've ever been, weak, and depressed. 
In late March of 2021, a friend of mine and I decided enough was enough. We booked a trip to Mexico and decided to do a detox and shred for the 10 days leading up to the trip. This would kickstart our new healthy routine. What a kick in the face I received. My athlete brain was gone so not only did I find any kind of diet or exercise hard, my brain just wanted to give it – it didn't see the big picture. Dieting has never been my thing, but here I was basically starving myself while working out 2.5 hours a day and I wasn't losing any weight or inches. It was demoralizing.
Despite how hard it was and the little results I was seeing, I stuck with my new routine. I created an eating routine that was healthy, I kept my two-a-day workouts, and I started working with a doctor to address my hormone imbalance. 
We're now in October 2021, almost 7 months to the day I started this adventure and I'm happy to say I'm almost back to my competition weight, I am much stronger, and I have a strong balance between running my business, traveling the world, and focusing on my health and wellness. I just hit 15,000 minutes on Peloton in 2021, which doesn't include all the time I spend in the pool. I went on a bike ride with one of my cyclists friends this past Saturday and felt strong and powerful each time I took the lead to pull. In fact, I pulled into the wind and with a minor grade and still managed to get us to 21mph. I looked at my watch with giddy and pride. It's such a good feeling to not only be able to keep up with your friends, but to feel you can pull your own weight. 
I had to learn on this journey to look at other metrics other than weight. The weight was coming off, but extremely slowly so I needed other ways to measure my progress and keep myself motivated. I started carrying a measuring tape with me when I traveled and at last measurement I have lost 27+ inches.  I also started working on doing a handstand as a sign of progress in arm strength; remember at the start I couldn't even do a plank for 30 seconds. Now I can do a full handstand and hold it for over a minute with only slight assistance (back against a wall). Both my arms and my brain go the distance. 
It's been a long journey of self discovery and rediscovering my appreciation for all that my body does for me. As my friend Conni says: Be careful what you say, your body is listening.
I only have one goal left to meet all of my goals, so I guess the only question left is, do I put a triathlon back on the calendar and shoot for another podium?