Between exercising, sightseeing, and commuting, I spend a lot of time on my feet. When I was a child I ran around without shoes on. I loved the feeling of the grass and beach sand on my feet. I grew up in a rural beach town – a town and neighborhood where it was safe to run around with no shoes, though I'm not sure it would have mattered.
When I was older, in school and getting ready to join the cross country team I was told I needed proper sneakers. I was a sprinter so I got a pair of running flats and was set. Fast forward decades, I'm in my thirties, I've moved to Boston and I'm learning the city by running its streats. I start to develop all of these ailments and can't figure out what is causing them. To make a long story short, my running flats weren't cutting it anymore. My older, yet still young, body needed proper running shoes.
I hated every I tried on. The poor people at Marathon Sports were so patient. Finally I realized, I really hate wearing shoes. I hated the clunky bricks on my feet and I hated the fact that they made my feet hot. I longed for the days of freedom, running around barefoot and filled with joy. I expressed how I was feeling to my salesperson and they introduced me to minimalist sneakers. Finally, I had found something I could live with.
That was just it, though, I lived with them. They weren't perfect; they created blisters all over my feet. Another five years would go by before I found the holy grail of sneakers – on-running.
They claim to have you running on clouds and it is so true. They're light, breathable, and they do not cause blisters.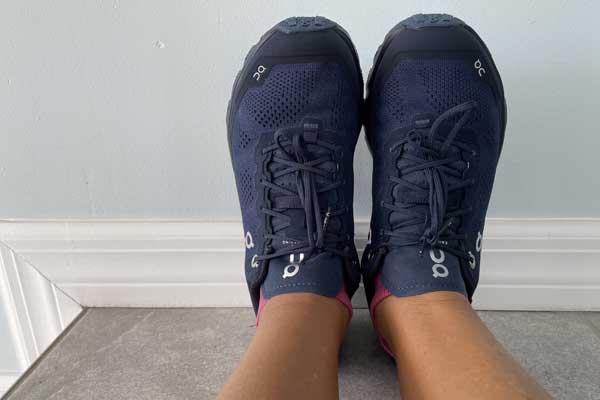 Given that I replace my sneakers about every three months, I initially choked at the hundred and fifty dollar price tag, so I found a previous year's model to try them out and they were totally worth the price. Then I did the math. My legs usually tell me around 300-400 miles that I need a new pair of shoes. This means I'm paying 38 to 50 cents per mile or 60 to 90 cents per day. This makes me feel a bit better.
I like the soft, lightweight shoes – the less the cushion the better, but it also means they wear out faster. My marathon sports guy it's kind of like the sports tires of shoes. They're softer and thinner so they wear faster. To me, it's worth the freedom my feet feel from the breathability and lightness.
The picture above is of my current and last two pairs of On-Cloud Running sneakers. When I'm home and do not have to worry about how heavy my suitcase is, I toggle between two to three pairs of sneakers; one trail and two road. However, when I travel, I use one pair for everything. The orange and blue sneakers are both Cloudventures. The black pair are Cloud X. I prefer the Cloud X. I bought a second pair of Cloudventures because they were in my brand colors, which never happens, but as soon as I received them I'd wish I'd gone with the Cloud X. The Cloud X have a soft sole and give me a solid grip on the road. The Cloudventures seem to have a material in them that causes slipping on slick surfaces; ironic since they're built for trails. Anyway, there not as good on cobblestone, rocks, or anything that gets slippery when wet. Not all sneakers are built for all terrains. I love both of these sneakers, but if I had to choose one, I'd go with Cloud X.
You'll probably have different needs and that's great; On-cloud running has lots of choices for all types of walkers and runners; depending on your age, gate, mileage, and type of shoes, yours could even last you longer :). Click this affiliate link to check them out and see if on-running is for you as well as save 10% on your first order.